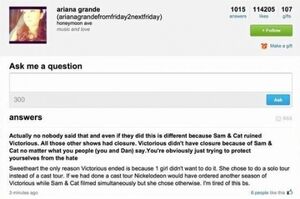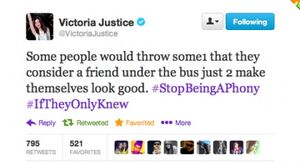 Recently, Ariana and Victoria had a fight since Ariana was tired of all the hate she was receiving from Sam & Cat, so Ariana tried to shift the blame to Victoria by saying that Victorious was canceled because Victoria did not choose to have a cast tour instead of a solo tour. More Recently, Ariana started some drama online after an interview with Seventeen magazine making them think she was speaking about the fight. Later Ariana went to Tumblr and told her followers that she was never taking about the feud, she was referring to her time on Broadway in 2008 and she also said that her time on Victorious was the happiest and that the cast is family to me. This may be some indication that there's no love lost between them both; but that is still unknown.
Ad blocker interference detected!
Wikia is a free-to-use site that makes money from advertising. We have a modified experience for viewers using ad blockers

Wikia is not accessible if you've made further modifications. Remove the custom ad blocker rule(s) and the page will load as expected.