Episode: The Birthweek Song
I don't want to make a scene I don't want to let you down Try to do my own thing and I'm starting to figure it out that it's alright Keep it together, wherever we go and it's alright Oh well, whatever, everybody needs to know You might be crazy Have I told you lately that I love you? You're the only reason that I'm not afraid to fly And it's crazy that someone could change me Now no matter what it is I have to do, I'm not afraid to try And you need to know that you're the reason why
I don't even care when they say, you're a little bit off Look me in the eye, I say I could never get enough 'Cause it's alright Keep it together, wherever we go and it's alright Oh well, whatever, everybody needs to know
You might be crazy Have I told you lately that I love you? You're the only reason that I'm not afraid to fly And it's crazy that someone could change me Now no matter what it is I have to do, I'm not afraid to try And you need to know that you're the reason why
If it was raining, you would yell at the sun Pick up the pieces when the damage is done Added by Vidzee
You say it's just another day in the shade But look at what a mess we made You might be crazy Have I told you lately that I love you? You're the only reason that I'm not afraid to fly And it's crazy that someone could change me Now no matter what it is I have to do, I'm not afraid to try
You might be crazy Have I told you lately that I love you? You're the only reason that I'm not afraid to fly And it's crazy that someone could change me Now no matter what it is I have to do, I'm not afraid to try And you need to know that you're the reason why.
Acoustic Version
Edit
At the end of the premiere of the Victorious episode A Christmas Tori on December 3rd, 2011, Nickelodeon premiered a music video for an "acoustic version" of the song, which Justice also performed. Justice played the piano, while backed up by unseen bowed string instrument(s), possibly a cello and/or double bass.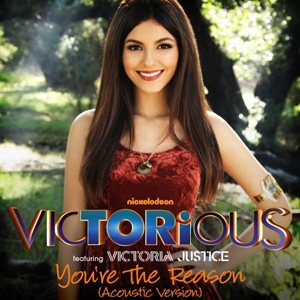 Ad blocker interference detected!
Wikia is a free-to-use site that makes money from advertising. We have a modified experience for viewers using ad blockers

Wikia is not accessible if you've made further modifications. Remove the custom ad blocker rule(s) and the page will load as expected.